Oh no! You've just knocked out your tooth at a flag football game! What are you going to do on a Sunday when your local dentist is closed? Leaving the problem alone until even just the next day can result in permanently losing your tooth and even infection to set in.
When this happens, it's important to see an emergency dentist. That's where we come in. Save a Tooth will help connect you with the closest emergency dentist to your desired zip code.
Don't wait until Monday to see your regular dentist and risk infection. Find your local emergency dentist and they'll do everything they can to save your tooth.
To go or Not to go, THAT is the Question
Your typical emergency room has criteria for what constitutes an emergency and the same sentiment goes for emergency dental work. If you're having trouble figuring out whether or not you should see an emergency professional, consider the following criteria:
The unexplainable pain: When you notice debilitating pain in your mouth, it's important to seek help right away. This is likely due to infection inside of your gums or the roots of your teeth. Leaving this can cause health issues throughout your entire body.
Swollen Gums: Swollen gums are another sign of infection. Your gums may also swell if you've experienced trauma to your mouth. If you notice bleeding alongside the swelling, you need to contact a professional right away.
You've experienced trauma: Any time you experience trauma to your mouth, it's important to see a professional right away. Trauma can cause nerves to be exposed, which makes your mouth more susceptible to infections that can turn life-threatening.
Knocked-Out Teeth: This is a form of mouth trauma, especially if it happens to adult teeth. If you take care of the tooth immediately after it falls out and see a professional right away, it can usually be reattached.
Dental Abscesses: An abscess is a pocket of pus that can form on any part of the body. When you notice an abscess in your mouth, seeking emergency help is important, preferably before it bursts. Even more so after it bursts.
Broken Crowns or Missing Fillings: Crowns and fillings are meant to provide protection to a damaged tooth. When a crown breaks or a filling falls out, your tooth becomes more susceptible to breakage and infection.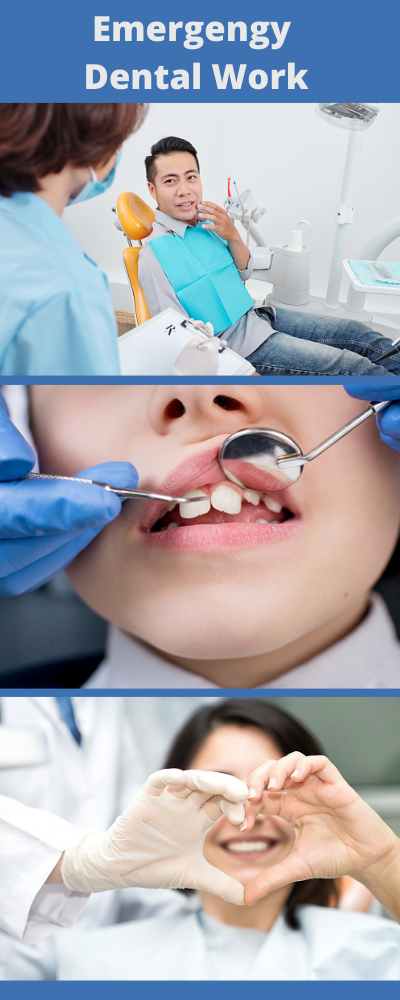 While you can't always prevent an accident from happening, you can practice good oral hygiene to make sure your teeth and gums are strong enough to withstand an accident. It's recommended to brush your teeth twice per day and replace your toothbrush or brush head every 3-4 months.
Make sure you use a soft-bristled brush and toothpaste that contains fluoride. Flossing every day, using mouthwash, and avoiding foods with excess sugar is also integral in maintaining good oral health.
Maintaining good oral hygiene is increasingly important for people who suffer from various diseases. Diseases like cardiovascular disease, diabetes, and HIV/AIDS make dental issues more common. Those who are pregnant may also notice dental problems throughout pregnancy.